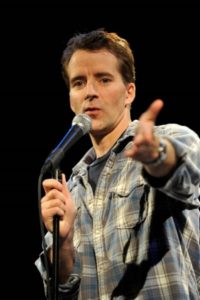 New England native Juston grew up living on the border of New Hampshire and Maine. After earning an associates degree from the very prestigious Southern Maine Community College, he was hired as a deputy Sheriff in Maine, patrolling the same border in which he grew up. But in 1997 Juston turned in his gun and badge and left the dangerous streets of rural Maine and moved to the quiet community of Queens, New York. While living in NYC he worked his way into the weekend line-up at Comic Strip Live, Stand-up New York, Dangerfield's, Gotham, and Caroline's on Broadway. He has had sitcom development deals with Warner Brothers, CBS Productions, Comedy Central and IFC. In 2000 the New York Times called him "destined for stardom". Which he admits, hasn't really happened yet…
He has had two Comedy Central specials including his half-hourComedy Central Presents and most recently his 1-hour specialJuston McKinney-A Middle-Class Hole, which was released by Warner Bros. on DVD/CD. He has appeared numerous times on the Tonight Show with Jay Leno and appeared on the Tonight Show with Conan O'Brien. He was chosen to be part of the Blue Collar Comedy Next Generation Tour, with Bill Engval, which aired on TBS.
He currently lives in New Hampshire with his wife, kids and dogs.