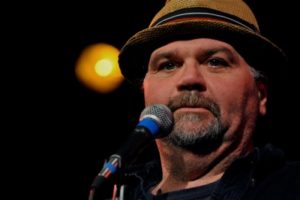 Tony's big screen outings include, The Heat, Ghostbusters, State and Main, Celtic Pride, Housesitter, One Crazy Summer and Shakes the Clown as well as the independently produced By the Sea and Abracadabra. Tony has also produced and written on several shows for network and production companies.
He is no stranger to benefits and fundraisers, performing at functions for The American Cancer Society, Children's Hospital, The Boston Food Bank and many other charitable organizations. His corporate shows include Citizens Bank, The North East Lumber Association, Stop & Shop, American Express Corp. and Staples.
Along with being a popular headliner at clubs and colleges all over the free world, Tony V has worked with Jay Leno, Dennis Miller, Bobcat Goldthwait, Steven Wright, Adam Sandler and countless other friends and nationally-known acts. Tony has opened for Kenny Rogers, The Temptations, Billy Ray Cyrus, The Beach Boys and Joan Jett.
Tony also really believes that this is enough of a Bio and if you're not convinced or impressed by now, nothing is going to change your mind. So thanks for reading this far and good luck in all your endeavors.